NYCFC Soccer Camps offers week long camps to players of multiple abilities seeking to develop in all aspects of the game in a fun and competitive playing environment. Our camps involve a wide range of game related activities that encourages players to be creative and confident on the ball. NYCFC youth coaches, with national and international coaching credentials, provide expert coaching to players with age-appropriate learning objectives from a curriculum specifically designed by NYCFC Youth Programs & Academy staff to enhance player development.
Our curriculum focuses on Ball Mastery and basic techniques to promote creativity and confidence on the ball, game related situations to improve decision making and movement, and small-sided games to identify each player's understanding of the various phases of play.
All NYCFC Soccer Camps cater to players of all levels. Camp participants will be matched in groups with players of similar abilities. Players that attend NYCFC Soccer Camps have the opportunity to be identified to progress into the NYCFC player pathway.
Floral Park Date:
July 16 - July 20
Full Day: 9am - 3pm - $300.00
Half Day: 9am - 12pm - $200.00
Toddler Program - $100.00
Ages: U4-U15 (Boys & Girls)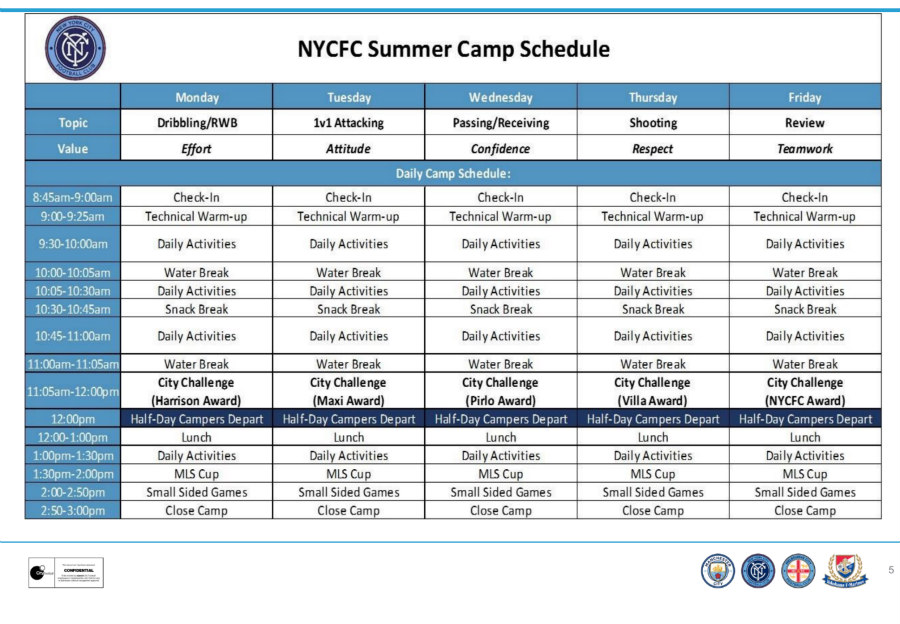 All players will receive the following:
• NYCFC Ball
• NYCFC Camp Shirt
• 1 Match Ticket to Camp Reunion Day at Yankee Stadium
• Player Meet & Greet at Camp Reunion Day